Before you apply to medical school, it's a good idea to get some experience in the field. But where can you do this? Pre-med students who want to try their hand at working with patients or conducting research are often interested in liberal arts colleges. 
Choosing the right college isn't always an easy decision. There are many factors to consider, most importantly, what kind of program and major you choose will have a huge impact on your future career options and earning potential after graduation. While many people think that pre-med students must study exclusively in the sciences, this isn't entirely true. In fact, to be a great pre-med student and get into the best medical schools, you should also study the humanities and social sciences as well. 
Plus, they also provide opportunities to get involved in research and other extracurricular activities that can help you stand out when applying to medical school. The best liberal arts colleges are those that provide strong general education and good preparation for medical school and beyond. Whether you're applying to medical school immediately after graduating or taking some time off first.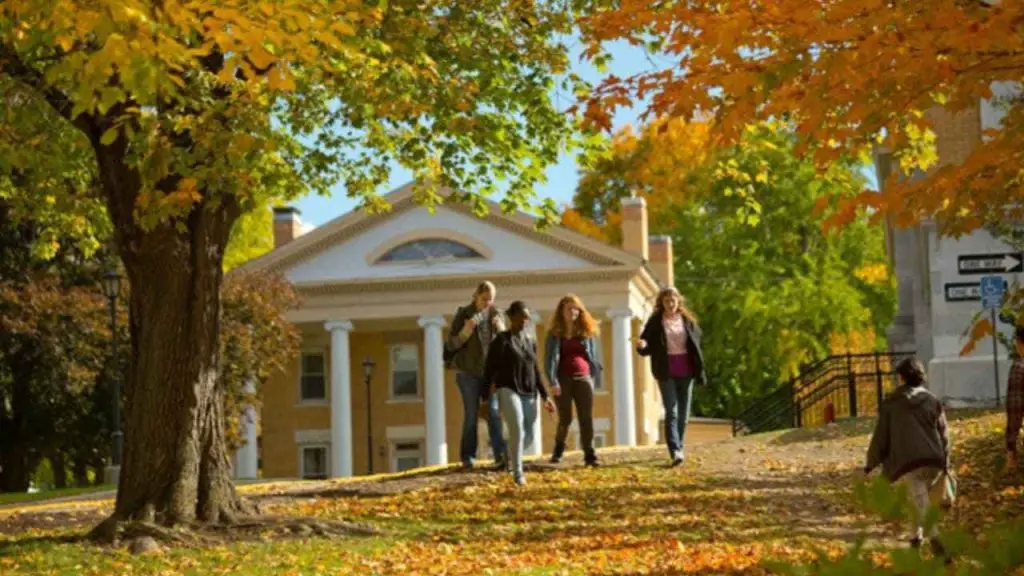 Liberal arts colleges
Liberal arts colleges are great places to study pre-med. With their smaller class sizes, rigorous academics and focus on undergraduate education, liberal arts colleges give you the best chance of getting into medical school and succeeding as a doctor. Liberal arts colleges are known for their focus on undergraduate education, with classes taught by professors rather than graduate students or teaching assistants. 
They also offer small class sizes, typically 15 or fewer students per class that promote student-teacher interaction and allow you to form meaningful friendships with your classmates. The smaller scale of these schools allows them to offer more classes in each discipline so that students have ample opportunities for hands-on experience outside of lecture halls and textbooks.
When you apply to medical school, your undergraduate degree is one of the factors that admissions committees consider. The type of degree you earn can help or hurt your chances of getting accepted. As a result, many pre-med students choose to attend four-year liberal arts colleges rather than community colleges or technical schools.
The majority of medical schools in the U.S. require applicants to have a bachelor's degree before they can enter their programs. However, some schools accept applicants with an associate's degree or are willing to consider applications from students who are still working on their undergraduate degrees. 
For those interested in attending medical school directly after high school, this can be problematic if they don't attend a four-year university first.
Best Liberal Arts Colleges For Pre Med
Here are some of the best places to get your undergraduate degree before becoming a physician:
1. Williams College
Williams College, located in Williamstown, Massachusetts, offers a rigorous pre-med program that is designed to prepare students for medical school and is considered to be among the best in the country. Williams College is a top liberal arts college because it has an excellent pre-med program. The school's medical school acceptance rate is very high, and its students have a good chance of getting into medical school.
The pre-med program at Williams is small and intimate, with about 50 students in each class. You'll get to know your professors well and have plenty of opportunities to get involved in research. The curriculum prepares you for medical school and beyond, so you'll learn everything from anatomy and physiology to biochemistry and genetics.
But if you're worried about getting lost in the crowd, don't be! The student body at Williams is small enough (about 2,000 total students) that it feels like one big family. You'll meet people from all over the world who share your interests and values, which means no matter which major or minor you choose, there will always be someone who understands what you're going through. 
All of these things combine to make Williams College one of the most prestigious liberal arts colleges in the country—and perhaps even the world. Williams College has a strong academic program for pre-med students, with a rigorous curriculum that includes courses in biology, chemistry, physics, and math. 
Students who are interested in pursuing medicine can also take classes on health issues, like public health and nutrition. The school's pre-med program offers many opportunities for students to get hands-on experience in medicine. 
For example, they can participate in clinical rotations at local hospitals or medical offices. They can also take part in research projects that involve working with physicians and researchers at other institutions around the country or the world.
2. Pomona College
Pomona College is one of the most prestigious liberal arts colleges in the country. It's located in Claremont, California, and has a beautiful campus and tons of fun activities available to students. The pre-med program at Pomona College is nationally recognized as one of the best and brightest programs in the nation. 
The school has an enrollment of about 1,500 students, making it relatively small compared to some other schools on this list. The school has earned many accolades over time as it is consistently ranked as one of the best colleges in the country by U.S News & World Report, Princeton Review, and Forbes magazine just to name a few sources. 
Additionally, Pomona College received five stars out of five for academic quality at Niche for the 2018-2019 ranking period – an honor bestowed upon only 11% of all colleges nationwide. They have a long list of famous alumni, including many that are well-known in their fields for their accomplishments.
The admissions process for pre-meds is rigorous, but if you can get in, it's worth it! It's known for its excellent pre-med program, which is designed to prepare students for careers in medicine and other health professions. 
Pomona College is a great pre-med school, and it's only a few hours from Los Angeles, which means that you can still get all the benefits of being near a big city without sacrificing the opportunity to live in a small town. It also has the most rigorous pre-med program in the country—if you want to prove yourself as a pre-med student, this is where you should look.
Pomona College offers a unique opportunity: if you come here as a transfer student, you can apply for the accelerated path through their four-year BA/MD program. This means that if you get accepted as an undergraduate on their campus, they'll accept you into their medical school as well! That's right, you could go directly into medical school after just four years of undergraduate studies.
The accelerated path like this one is not available anywhere else in the country. Pomona College is one of only two schools (the other being Cornell University) that offers this type of program. Because of this, Pomona College has developed an excellent reputation for producing top-notch doctors who are ready to take on their first day at work with no problems whatsoever.
If you're looking for a liberal arts college that will give you the best possible chance at getting into medical school, look no further than Pomona College. Many of its students are admitted to top medical schools every year.
3. Scripps College
Scripps College is a private, women's liberal arts college in Claremont, California. It was founded as a sister school to the Scripps Institution of Oceanography with the same mission: "to promote scientific inquiry and research." The school's motto is "As far as your mind takes you." Scripps College has an acceptance rate of about 20 percent and admits students on a rolling basis for fall semester admission; it does not release an application deadline for early decision.
In addition to its undergraduate program, the school also offers a master's degree and Ph.D. in marine sciences as well as an accelerated pre-medical program. Students can choose from more than 40 majors and minors; however, Scripps College's curriculum focuses on programs that foster "inquiry and creativity."
4. The United States Merchant Marine Academy
USMMA was founded in 1943 as an all-male college with a mission of training officers for the Merchant Marine service. The United States Merchant Marine Academy offers one of the most rigorous and varied pre-med programs in the country. Graduates enter a variety of medical fields including general practice, pediatrics, orthopedics, psychiatry, obstetrics, and gynecology, as well as a variety of surgical specialties. One out of every three graduates enters into some type of health profession field. 
For those who do not become doctors, USMMA graduates are among the best trained and qualified applicants for engineering careers at companies like GE or Dow Chemical. They also have an excellent record of success after entering careers with Navy or Coast Guard organizations such as NASA or NOAA (National Oceanic Atmospheric Administration).
Over time, however, things have changed some: today's students who enroll at USMMA agree with the federal government that binds them to five years of service after graduation. This means that if you want to attend this school and you're planning on going into medicine you'll be giving up your freedom for two years after graduation before being able to start practicing medicine.
If you're planning on attending USMMA, you'll also be giving up a lot of money. Right now, tuition at this school is over $55K per year, which means it will cost you more than $250K to graduate and that doesn't include room and board or books.
5. Mount Holyoke College
Mount Holyoke is one of those colleges that has a reputation for sending out more pre-med graduates than any other college in its class. The school's biology department is especially strong, offering multiple tracks of study to interested students. The best part? You can take courses with your favorite professors and even participate in research projects.
To top it all off, Mount Holyoke also offers an array of summer programs and opportunities for hands-on experience through internships at hospitals or labs where you can apply what you've learned in the classroom. If you're interested in pre-med, Mount Holyoke is a great choice. The school offers a wide range of biology courses and has an excellent reputation for sending out its graduates into the field of medicine.
6. Harvey Mudd College
Harvey Mudd College is located in Claremont, California. Founded by mining engineer William E.While and is well known for its engineering and science programs. The college has been training future physicians since 1925 with its collaborative premedical program, which includes a rigorous curriculum of coursework and research opportunities while still allowing students to explore other fields before committing. 
The college has a low student-to-faculty ratio of 14:1, it's close-knit and it's normal for most professors to know students by their names. The college has a student body of about 1,000 students. Harvey Mudd College also offers a liberal arts curriculum that includes courses such as Introduction to Computers. 
7. U.S. Air Force Academy
The U.S. Air Force Academy is a military school, which means that it's not for everyone. But if you're looking for an excellent education with a strong STEM focus and want to live in a small town with excellent college sports, this could be the place for you.
The Air Force Academy has a reputation as one of the top liberal arts colleges in the country (and also has an amazing football team). The class sizes are small, about 1,000 students per year and it offers an opportunity to work closely with professors who have real-world experience in their fields of expertise.
The Academy also boasts a variety of research opportunities for students, including internships with NASA and the Department of Defense. The Air Force Academy is located in Colorado Springs, a city that has been ranked as one of the best places to live in America by several publications. It's close enough to Denver that you can get city amenities but far enough away that it feels like its own community.
8. Bryn Mawr College
Bryn Mawr College is a liberal arts college in Pennsylvania. It was founded in 1885 by Joseph W. Taylor, a Quaker, who sought to create an institution that would provide women with equal opportunities for higher education. Bryn Mawr College offers a pre-med program designed to give students the skills and experience they need to pursue medical school. 
Students can work closely with professors on labs and fieldwork, or conduct hands-on research projects over the summer through an exciting three-month long program. The college's name comes from the Flemish town of Bryn Mawr. The school's motto is 'non-ministrari sed ministrare' or "not be served, but serve."
The student body at Bryn Mawr is made up of about 1,460 students who hail from 49 states and 25 countries around the world. The school offers more than 40 majors for undergraduate students along with several dual degrees as well as minors in subjects such as international studies and politics.
Bryn Mawr's athletics teams are known as the Bisons and compete in the NCAA Division III. The school has 16 varsity sports, including soccer, softball, basketball, lacrosse, and field hockey.
9. Claremont McKenna College
Claremont McKenna is a liberal arts college in Claremont, California. The school was founded as Claremont Men's College in 1946 and became coeducational in 1976. Claremont McKenna College is a well-known liberal arts school with a robust pre-med program. 
Some programs award partial or full scholarships, allowing you to keep your financial situation in mind as you prepare for medical school and your career. Students enrolled in the joint BA/MD program can complete their undergraduate degree before moving on to two years of medical school, so it's not necessary to be finished by the time you apply.
10. Smith College
If you're looking to get your pre-med degree in a female-centric environment, Smith College is the place for you. Located in Northampton, Massachusetts, this private women's liberal arts college has an enrollment of 2,500 students and a student/faculty ratio of 9:1. 
Smith College was established as the Northampton Association for Education in 1871 and received its charter as Smith College in 1875 by the Act of Congress (the first woman's college to do so). Smith isn't just known for its strong academics though, it also boasts one of the most successful collegiate athletic programs in the country with varsity teams participating at all levels from NCAA Division III through Division I. 
Students can participate on one or more teams which compete against other colleges both regionally as well as nationally." Smith College has been ranked the #1 Best Value in Private Colleges and Universities by Kiplinger magazine for its "high quality of education at an affordable price." The school offers over 40 majors and pre-professional programs, as well as a variety of study-abroad opportunities.
11. Yale University
Founded in 1701 and located in New Haven, Connecticut, Yale University is known for its world-class graduate schools. With a little more than 12,000 undergraduates in all degree levels and 60 different majors. Yale has one of the best premed programs of any liberal arts college with eight premed advisers to provide students with guidance. 
More than 300 medical students enroll every year. There are also 16 different undergraduate specializations in biology available at Yale University. Students can take courses in neurobiology, immunology, or biomedical engineering, just to name a few options. If you have your heart set on going into the sciences, then this school may be perfect for you.
12. Wesleyan University
Wesleyan University is a private liberal arts college in Middletown, Connecticut. It has a pre-med program that is ranked as one of the best in the nation. The school boasts an average SAT score of 1510 and an average ACT score of 35, which are both above average for most colleges.
The school's curriculum is designed to focus on critical thinking, reasoning, and problem-solving—skills that are essential to success in any field, including medicine. The pre-med program at Wesleyan offers students unique opportunities to gain experience through shadowing physicians at nearby hospitals and clinics; participating in research projects; internships, or clinical rotations during summer break or winter break periods. 
While most pre-med programs require at least two years of chemistry classes, Wesleyan's biology major requires only one year of chemistry. This gives students more time to focus on their other courses, such as organic chemistry and physics. In addition to this, the biology major requires an internship as part of its coursework and you can choose from a wide range of options.
There are also many extracurricular activities to choose from, including volunteering at local hospitals or clinics or joining community service organizations like Habitat for Humanity or United Way (to name just two). The school has a strong liberal arts tradition, which means it offers a wide variety of classes in different disciplines so that students can explore their interests and passions while still preparing for medical school.
Wesleyan also has a robust science department with a long history of producing successful medical students, which means that students who choose this program know they're getting top-notch education from the very beginning.
In addition to its low-stress course load and ample opportunities for internships and research, Wesleyan also has one of the best medical school acceptance rates in the country: 94%. This means that if you choose to apply to medical school after graduating from Wesleyan University, your chances are good.
13. Stanford University
Located in Stanford, California, this private research university is a top-notch school for premeds. Stanford has a long history of academic excellence and its reputation as one of the most selective universities in the world has only enhanced its reputation as a top-notch school for premeds.
The admissions process at Stanford is highly competitive, you'll need to have exceptional grades and test scores to get an acceptance letter from this prestigious institution. The pre-med program at Stanford is challenging and requires a lot of hard work. You'll need to take the MCAT, prepare for interviews with faculty members, and write several essays as part of your application. 
If you are successful in gaining acceptance into the program at Stanford, however, it will be well worth all the effort.
14. Davidson College
Davidson College is a private liberal arts college in North Carolina. It's one of only three colleges in the U.S. that offers students the opportunity to apply to medical school while still in high school, and it has been recognized as one of the top-ranked liberal arts colleges in the country by U.S News & World Report since 1998. 
It is a small, intimate student body with an average class size of 15 students, a private college with a strong focus on science, including medicine. The admissions process for applicants to the pre-med program at Davidson College is very competitive.
Applicants must submit an application that includes SAT or ACT scores as well as a personal statement, letters of recommendation, and high school transcripts. Admission requirements also include high school coursework in biology, chemistry, and physics; as well as general education requirements such as history and English composition courses.
Davidson College's pre-med curriculum is designed to help students develop the critical thinking skills they need to succeed as future doctors, while also providing them with the flexibility to pursue other subjects that interest them.
Davidson's pre-med program is designed with three goals in mind:
To give students rigorous training in both the sciences and humanities.
To prepare them for medical school by providing them with academic support, including tutoring and advising services.
To expose students to a wide variety of experiences through internships, study abroad programs, community service opportunities, and research projects.
The Princeton Review named Davidson College one of the best institutions for internships and co-ops and over 90% of graduates who attended this college go on to graduate school within five years after graduation.
15. Haverford College
Haverford College's pre-med program is a perfect choice for students who want to combine their passion for medicine with the liberal arts. Haverford College's pre-med program is top-rated. Haverford College has a top-rated faculty that includes many full-time professors who have experience in the field. 
The college has small classes, which allows students to get one-on-one attention from their professors. The school also offers study abroad programs in countries such as China and Malaysia. It is located in Pennsylvania, which means students will have access to top hospitals nearby.
The pre-med program at Haverford College is rigorous, but it prepares students well for medical school by teaching them how to think like a doctor and understand how the body works. Students also learn how to interact with patients by working as an intern at a hospital or clinic during their senior year at Haverford College's pre-med program.
The school boasts an impressive medical school admission rate, which is 86%. In addition to being able to get into medical school, many graduates go on to work in research labs or become doctors after graduating from this institution.
Liberal Arts College Benefits
Liberal arts colleges provide many benefits beyond the opportunity to study pre-med:
They give students the chance to explore their interests and develop passions before committing to one path of study.
It's easy to meet people at liberal arts colleges because they tend to have smaller student bodies than large research universities. This means there are fewer distractions during social activities and classes will feel less crowded because there aren't as many classmates per class.
You'll also have more opportunities than usual when it comes time for job searches—and who doesn't want more options?
Liberal arts colleges offer a more intimate learning experience. They're smaller than research universities, so you won't have to compete with hundreds of other students for attention from professors. 
Conclusion
The Association of American Medical Colleges reports that more than 60% of all US medical students attended a liberal arts college. There are plenty of great science-focused institutions with excellent pre-med curricula. Liberal arts colleges are a great place to go for pre-med. They give you the academic freedom you need to explore and prepare for medical school. 
Liberal arts colleges are also more intimate than other types of institutions, which means that professors know their students by name. This helps students build strong relationships with their teachers and advisors who can help them succeed in college and beyond.
Additional Contents